Saturday, September 27, 2008
The papers are 700 X 700 in Tagger size. There will be more elements uploaded tomorrow night!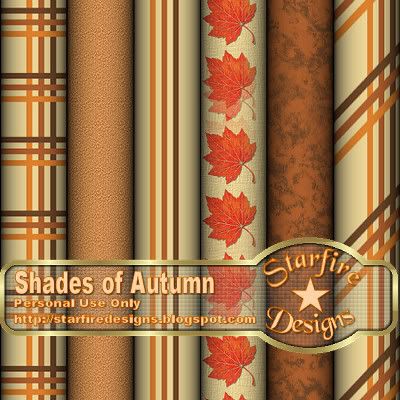 Posted by

Starfire
at 12:34 AM
3 comments:

I hope you will find the wait has been worth it. The alphabet is sized at 275 X 368 and saved as a psp file. If anyone needs it as a psd file give me a holler.
The letter A is outside the bag so you can see the actual color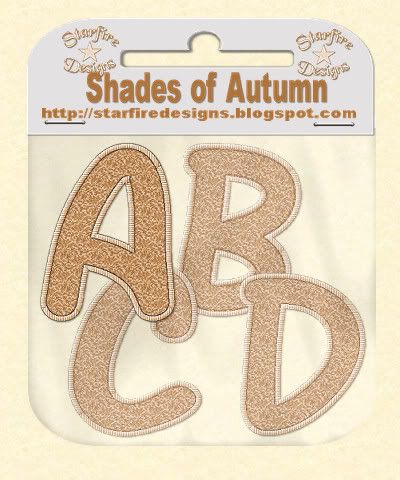 Download HERE
Posted by

Starfire
at 12:25 AM
No comments:

Thursday, September 18, 2008
I am well aware it has been more than a few days since I was here last. My darling hubby decided he needed to spring clean (yeah right, we're headed into fall) to help with my breathing. Well needless to say it kicked up dust which I didn't need and I've been very ill. Our poor Frisky (our male cat) had to go in for his allergy shot as well. I think hubby has finally finished moving things around so hopefully I will get something up over the week end.
Posted by

Starfire
at 5:35 PM
No comments:

Sunday, September 14, 2008
I'm so glad you've dropped by. I'd hate to think I had finally started talking to myself. lol

It has taken me so long to get this together that I haven't had time to post anything but I do have things made to share. So check back in a couple of days and see what I've come up with.

They will all be freebies at least while I'm learning and will be in tagger size.

Hugs
Starfire
Posted by

Starfire
at 12:27 AM
No comments: